On May 1st, ESPN's reporter Jeff Darlington went on record talking about the Quarterback competition that could be in Nashville.
"He's (Mariota) got to stay healthy. I believe that Marcus has the talent, it's whether you can stay healthy. And, if by week eight he all of a sudden he goes down with some kind of injury, Ryan Tannehill, as Mike and I know very well in South Florida, will come in there and look really pretty and really good. And all the sudden he is going to be the type of practice player that's going to make the Titans believe that he could be their guy. I believe that, ultimately, the Titans will enter 2020 believing that Ryan Tannehill will be there Franchise QB." 
Former Miami Dolphins GM and newly hired ESPN Analyst Mike Tannenbuam, agreed with Darlington about Tannehill's abilities:
"When healthy, he's been a starting-winning quarterback. That's not hope. That's not conjecture. That's just the facts….Marcus is your starter, but they have depth at that position…and you got two guys that you can win with."
Now, for anyone reading this that confesses to be a Titans fan, please do your best Salt Bae impression and cover this thing in a mountain of salt so you don't bust a blood vessel laughing at this: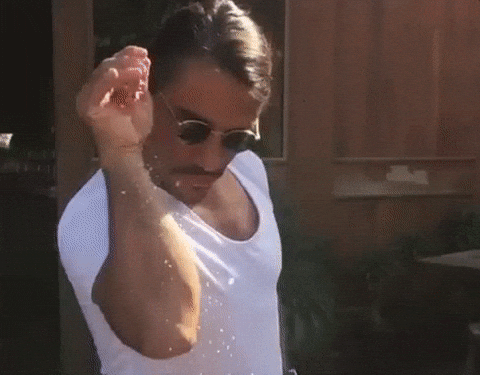 We good? Good. Let's continue.
For two people who have been very close to the Miami Dolphins organization over the course of the last 5 years, they have made it very clear that they lack the knowledge to speak about how the Titans organization feels about one QB over the other. In the predicament that Mariota does get injured, I believe Tannehill can come in and be a serviceable backup and do a great job handing the ball off to Derrick Henry or Dion Lewis. Given Tannehill's extensive injury history as well, I wouldn't be surprised if we saw a hypothetically injured Mariota coming off the bench to replace a hypothetically injured Tannehill, like Mariota did when Gabbert got hurt in 2018.
Fact is, this is laughable. I had to google who Jeff Darlington was to see if I even knew who this guy was, and honestly, I only know his face because of when the ESPN backups take a day off and he gets the limelight.
There is no question that I am happy with the upgrade at backup QB. The progression that we've had at the back up spot has been great. Just a few years ago, we say Matt Cassel throwing ducks in Miami, and here we have the same starting QB that beat Cassel that game as our QB. Great work by Jon Robinson in getting him, and not to mention the fact that the Dolphins are still paying for $5 million of the $7 million contract the Titans signed him for.
This is the sad reality of the offseason when people are sharing ridiculous takes to get noticed. It's a sad reality that even this wanna-be sports "reporter" can see. But let's get one thing clear. As we talked about on our most recent Podcast episode where we played out if Mariota has success, and the other side of the coin where he doesn't; this is Mariota's job to lose, and if he does fail to get the job done, the Titans will be set back nearly 5 years before they can compete at the same level as they can in 2019. But I have all the confidence in the world that the Titans believe in Mariota, and they have doubled down by adding talent around him this offseason.
Cast your vote here on our most recent Twitter poll:
Thanks so much for reading Titans fans! Share this article, follow me on Twitter: @TresWinn, and share your opinion with me!
As always, Titan Up!