2019 has been off to a very interesting start. Jon Robinson has brought in Free Agents, Draft picks, and the Rookies have reported for Mini Camp. With the new additions, this brings a new sense of competition with the Tennessee Titans. According to most outlets, the Titans offseason haul has been noted as one of the best in the NFL, but with the improvements come harsh realities for Titans players who still need prove themselves worthy of a contract extension. Here are my pick for players going into the 2019 on the hot seat:
1. Marcus Mariota
If this is a shock to anyone, you must be either live under a rock or maybe you've been frozen in ice for a few decades which makes me think, Nick Fury may very well be calling you right now. Marcus Mariota has shown flashes of his abilities, but has been incapable of staying healthy, consistently playing at a high level, and still needs to improve him game overall. Marcus is known for his ability to use his legs to extend plays and get first downs, but he is better known for the fact that you're almost guaranteed a interception from him every game, he holds the ball too long, and his cub scout demeanor lacks the fire of most NFL Quarterbacks. Whether or not he starts yelling at teammates or not, 2019 is rapidly approaching and Marcus has new talent around him to help get his back from against the wall and get a long term contract.
---
2. Derrick Henry
"NOT DERRICK HENRY!" Yes, Derrick Henry. The King is entering the final year of his rookie deal, and although he had an awesome final four games of 2018, it's just as much of a "now or never" situation as Marcus Mariota. The only difference is, in my opinion, is that Henry is making the touches he gets count with 4.6 yards per carry through 3 seasons. His size and overall ability is an intimidating factor, but the main reason I put him here in the No. 2 spot is because of this; if Marcus Mariota enters the 2019 season and gets injured at any point, this offense becomes Derrick Henry. Sadly, there are people who think Tannehill is more than what he's been for his career, but the reality is, Henry is going to have the pressure on him to perform. The new additions on the Offensive Line will definitely help him, and seeing how he's almost double his rushing yards compared to the previous year the odds are in his favor for sure to get a deal. However, the change at Offensive Coordinator make me wonder how Arthur Smith will divide carries between Henry and Lewis, and seeing how Henry is a volume back, he can carry this offense as the workhorse; but will the Titans offensive staff let him?
---
3. Ben Jones
Ben Jones has been a solid Free Agent pick up. He is going into the final year of his deal with the Titans and seeing how is on the docket to only make $875,000 this year, it makes me wonder if he could've been cut if he were making more. The two guys that were playing to either side of him in 2018 has since been cut and Ben Jones didn't play to his normal level in 2018. He will be turning 30 in a couple months, which isn't necessarily a knock on him, but his play must be elevated in 2019 to hope for even a 1 or 2 year deal. There is also Corey Levin who is nipping at Ben Jones heels. When former Titans Guard, Quinton Spain, was benched it forced Jones to move to Right Guard and Levin came in and impressed in his efforts to protect Marcus Mariota and open holes for Derrick Henry. Most fans were asking for more, but the Coaching Staff decided to revert back to the original starting Offensive Line prior to Quinton Spain's benching.
---
4. Logan Ryan
If you're not surprised here, I hate to be the one to burst our bubble. Logan Ryan is an awesome guy, a fan favorite, and has done so much in the Nashville community for people and animals alike. However, the reality of the business of the NFL is kicking in. Ryan is currently the 5th highest paid player on the Titans roster, right behind Jurrell Casey, Malcolm Butler, Taylor Lewan, and Marcus Mariota. Ryan is definitely a solid player in the secondary, but it's clear that the addition of Amani Hooker could be a telltale sign that the Titans are preparing for a future without Logan Ryan. With the amount of player who are due big paydays, Logan Ryan could very well be a casualty, but depending on his play in 2019 under the returning Dean Pees defense, I would consider the odds in his favor to get some type of a deal done.
---
Check out my podcast "One on One with Tres Winn" where I recently interviewed TitansOnline.com Senior Writer, Jim Wyatt!
---
5. Corey Davis

Let the controversy begin. The former 5th overall selection is going into year 3, and still has a lot to prove. Do I think Davis is getting cut next year? No, that's outrageous. However, Davis should be feeling the pressure to take the next step. Mariota hasn't been healthy, but as long as someone can get you the ball you as the 5th overall talent have to make the catches count! Davis was in the national headlines this week regarding his most recent comments that he hopes "the game slows down" this year, and I can't help but agree with Chris Simms on Pro Football Talk:
Through his first 2 years with the Titans, Davis has been targeted 177 times and has 99 catches (a 55.9% catch rate), and in that time has a lousy 4 TDs. The 12th overall pick in the 2014 Draft, Odell Beckham Jr., was targeted 291 and caught 187 balls (a 64% catch rate), and hauled in 25 TD's in his first two years. "Not everyone can be OBJ, Tres!" Sure, but if you're the 5th overall pick, it's expected of you. The recent 2nd round pick, AJ Brown, is getting rave reviews and it's said that he could even challenge Davis for the WR1 role. In light of that, here is a live look at Jon Robinson in his lair: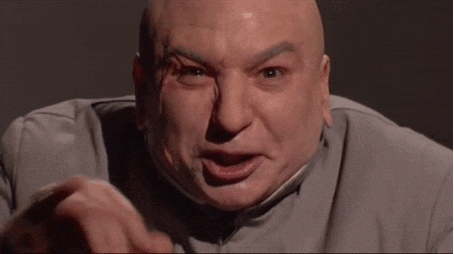 With that thought, it will be a competitive WR room this year, especially with the chance of Tajae Sharpe and Taywan Taylor being on the brink of getting cut in training camp.
Thank you for reading and please check out ChattTenn Sports most recent Podcast episodes! 
---
Article by Tres Winn