The 2018 Season was full of ups and downs, but nothing hurt as bad as the loss of the Tennessee Titans Pro Bowl TE, Delanie Walker. Walker lead with 111 Receptions in 2017, and has been a significant contributor in the blocking game as well. Even at the age of 34 Walker is definitely in the conversation as the best TE's in the NFL, now that Rob Gronkowski has retired. Without his contribution in 2018, we saw Luke Stocker upstage Jonnu Smith, but we also saw the impressive play by Anthony Firkser and Mycole Pruitt in both the pass and rushing game. Considering the players we have on the roster, I wouldn't expect Jon Robinson to seek out another TE until we can see how this group performs throughout the season. Let's take a look at this position group for the Titans in detail:
Delanie Walker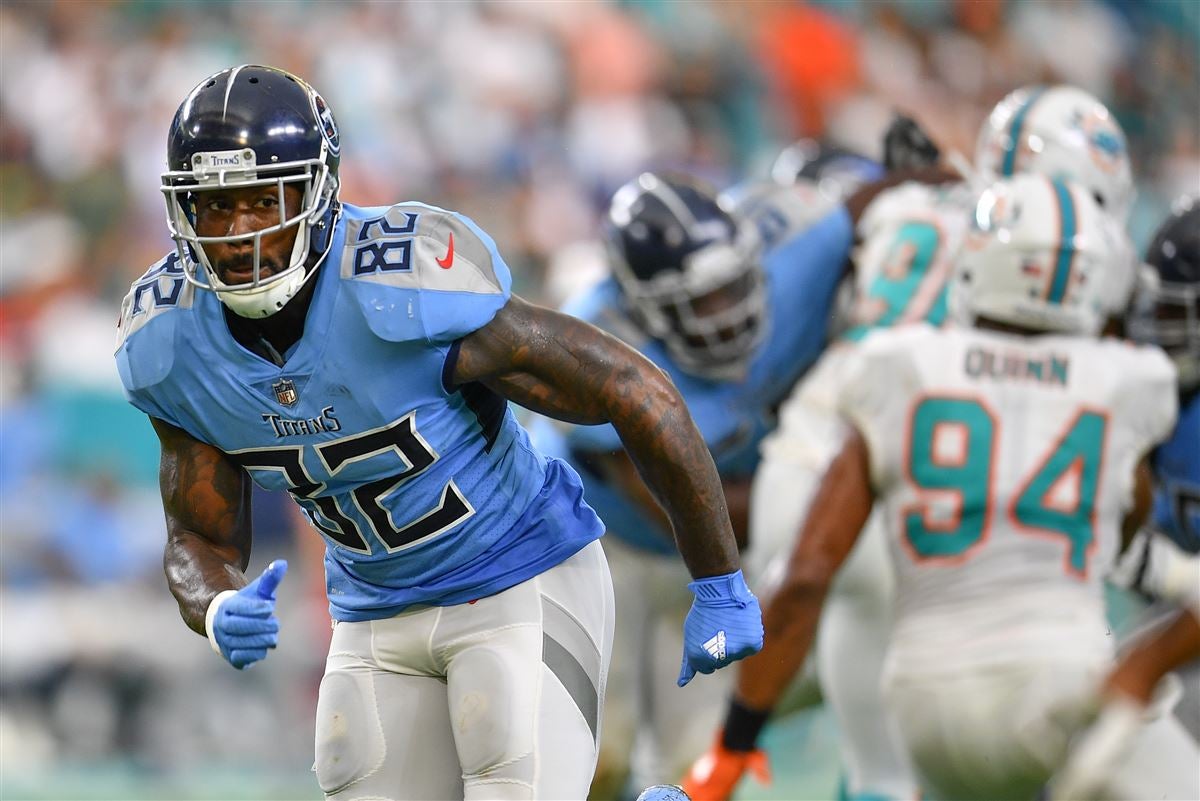 Is there anyone that QB Marcus Mariota likes more than Delanie Walker? It's been clear that since Mariota came into the NFL, Walker has been his go to guy. The last ball catcher to get to 1,000 yards receiving was indeed number 82 during the 2015 season with 94 catches, 5 TD, and 1,088 yards receiving. Delanie Walker has been a huge advocate for new Offensive Coordinator, Arthur Smith, and there is no doubt Smith know show to use Walker to his fullest ability.  After the 2018 season, the conversation regarding  the Titans drafting a TE in the first round spiked and it as Jim Wyatt documented, Delanie Walker was fully aware:
As you can hear above, Delanie states that he is used to the disrespect and doubt of the NFL media in general, the tone in his voice leads me to believe that the idea of being written off due to his age or potentially replaced has lit a fire under Walker. I full expect Delanie Walker to come back into this offense, ready for Week 1, and to hit the ground running with fresh motivation to dominate the conversation for best TE in the NFL.
---
Jonnu Smith
When it comes to his physical build it's clear that Jonnu Smith is a near carbon copy of Delanie Walker. Both are listen at 248lbs with Jonnu being an inch taller than Delanie, but there is a clear difference regarding their on-field play. Smith has struggled to show his ability to play consistently, but my question in his defense is, "How much of his 'failure' is from the expectation on him to be Delanie Walker 2.0." If we look back, Delanie Walker sat behind an athletic freak before too when he was in San Francisco. Vernon Davis was the 6th pick overall in the same year that Walker was drafted as the 175th pick in the 6th round in 2006.
Through two seasons, Smith has already racked up 4 more TD's, 211 more receiving yards, and has caught 15 more balls than Walker did in his first two years. There is no doubt in my mind that Titans GM, Jon Robinson, is aware of the untapped potential that Smith possesses. Given that Smith was taken in the 3rd round, and he has a Pro Bowl TE to look up, Smith has all that he needs to make his presence felt and that we could see an increased role for him in 2019. Delanie Walker also made it clear that the talking heads "who have never played a snap of football in their lives" have overlooked the talent that Smith is, so it's clear the jury is still out on what Smith can be long-term for the Tennessee Titans. If I was a betting man, I'd put some money on Jonnu Smith's targets to go up considering these opposing defenses will do their best to shut down Delanie Walker. Jonnu Smith could very well be Arthur Smith's ace in the sleeve.
---
Check out my podcast "One on One with Tres Winn" where I recently interviewed TitansOnline.com Senior Writer, Jim Wyatt!
---
Anthony Firkser
I'm seeing a common trend here with the Tennessee Titans TE Group. All four TE's on the roster are 6'2 to 6'3 inches tall and weigh between 245-250lbs, but there is one thing sets Anthony Firkser apart from the rest of the group – he went to Harvard. Even though that's a nice feather in the cap of Firksers, he's been embraced by Titans fans everywhere for his ability to catch almost anything thrown his way. In 2018, Firkser was targets 20 times and came away with 19 catches, 225 yards receiving, and 1 TD. To no ones surprise here that the national media members who were calling for the Titans to draft a TE in the first round have taken the time to see what the Titans have for depth. Firkser has proven himself, in my opinion, as a solid TE3. For what it's worth, Pro Football Focus actually has Firkser graded higher than Jonnu Smith with a 69.6, while Smith has been graded out at 55.2. I'm not expecting Firkser to be anything more than solid depth for the Titans, but should anyone get injured one thing is for sure; Anthony Firkser has some of the best hands on this team.
---
MyCole Pruitt
Last but not least, we've got MyCole Pruitt. Pruitt was drafted in the 5th round of the 2015 NFL Draft by the Minnesota Vikings. Pruitt was brought in after the Week 11 loss to the Colts, once Delanie Walker was officially put on the IR. Given the loss of Delanie Walker, and after four years in the league, Pruitt caught his first TD in the NFL in Week 16 against the Redskins. Pruitt had 11 targets, caught 9 balls, and had 102 yards receiving –  which 52 of his 102 yards came in the last two games of the 2018 season. Pruitt showed his value during the Week 14 win against the Jaguars when Derrick Henry had his famous 99 yard run. Pruitt was noted to have laid a pivotal block on Telvin Smith that broke the contain of the defense and allowed Henry to bounce outside.
You can see Pruitt, who is lining up on the left hand side in the jumbo package, blocked Telvin Smith from the 1 yard line all the way to roughly the 18 yard line. It's clear that Mike Vrabel knew something about Pruitts blocking ability given their history together with the Houston Texans, and gives me all the reason to believe that Pruitt will be back in this package to earn his keep again in 2019.
The only situation in which the Titans would sign another TE is, of course, if injuries hit this group. This group seems to be well rounded and has the depth that teams would find desirable. If someone were to go down, it would allow Smith, Firkser, and Pruitt to bump up on the depth chart given their knowledge of the offense, and Jon Robinson could find a low cost depth player to come in a contribute as needed.
Thank you for reading and please check out ChattTenn Sports most recent Podcast episodes! 
---
Article by Tres Winn
@TresWinn