You know, there are a lot of great bald men in this world – Dwayne "The Rock" Johnson, Stone Cold Steve Austin, Jeff Bezos, Joe Rogan, etc. The list goes on. BUT, my favorite bald man in power right now, Travis Schlenk.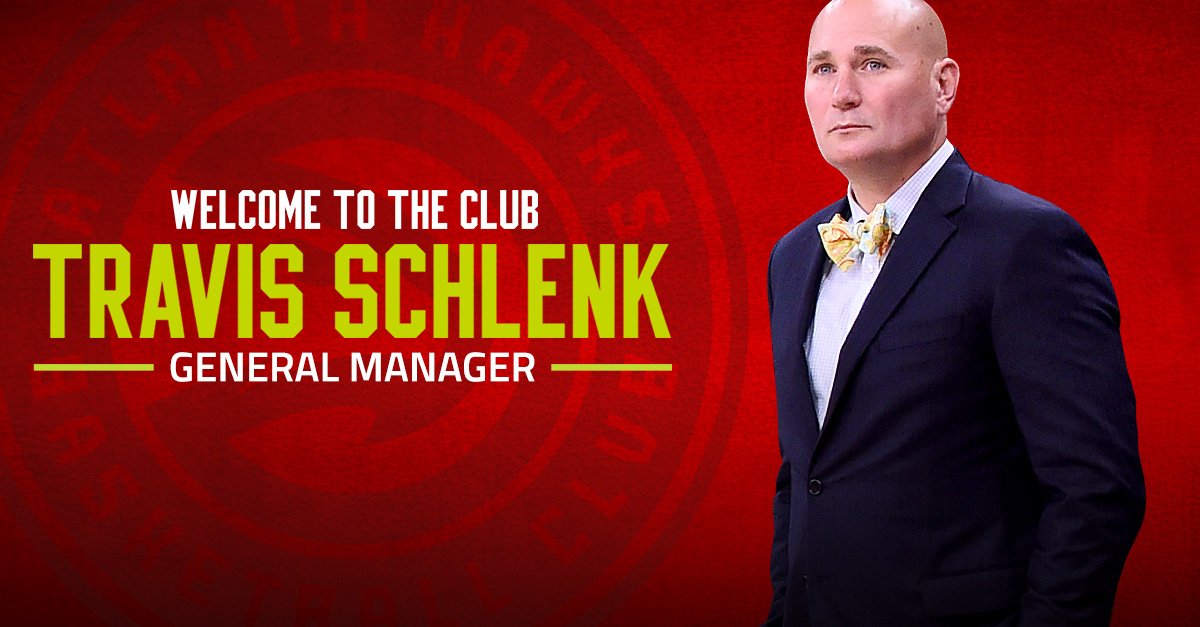 Yesterday afternoon at 5:58 pm EST, the Woj Bomb Hawks fans were anticipating, came down on Twitter.
Schlenk's move to the number 4 pick looked like it was destined for De'Andre Hunter, with a thought of maybe Jarret Culver. So for about 2 hours, Hawks fans were still left with little mystery. In a day and age where the NBA off season almost has as much surrounding anticipation as the regular season, fans relished the social media chatter and debate leading up to the draft pick.
The gist around this draft was: the top 3 picks were locked in and the real draft starts at the 4 pick. That statement was pretty spot on and some Draft night surprises and news ensued.
Would it be Hunter, Culver, or Garland at 4?

Jaxon Hayes next to Zion?? Interesting.

How did Cam Reddish fall to the 10th pick?

Cam Johnson with the biggest rise to 11.

Nassir Little falls out of the lottery

Bol Bol falls out of the 1st round.
When the 4th pick came in via the Lakers for the Hawks – another weird thing the NBA needs to fix- I feel like most Hawks fans were very excited to have the best 2 way player in this draft, not named Zion.
My De'Andre Hunter Grade: A
His best attribute: All NBA type defender.
As mentioned before, the Hawks are getting a fantastic 2 way player. In today's game you need versatility on defense due to the switches pick and rolls create. Players are so skilled now that you have to be able to step out 30 feet from the basket to contest threes, while also not being a liability of getting beat off the dribble. It's a tough world in the NBA for wing defenders, with the shooting and ball handling guys have now. Also, with what looks like the Hawks trending toward a somewhat small ball line up, Hunter will have to play some power forward. He will have to guard bigger guys, which he has a good frame for. Hunter has a 6'7 225 lbs. good muscular frame with a 7 foot wingspan, with great footwork.
He looked great against Jarret Culver in the NCAA championship game and caused Culver to shoot 5 for 22 and 3 turnovers.
In small ball lineups he can defend the rim when necessary. He contest very well without fouling. He's not a Greek Freak or Zion type all fearing shot blocker, but he does a great job of altering and contesting shots around the basket.
His promising attribute: Offensive Versatility
To continue from the NCAA championship game, Hunter showed he was the best player that night through also putting up 27 points – on 8 for 16 shooting- and 4 for 5 from three. OH, he also grabbed 9 rebounds. This all coming against Texas Tech's top 5 defense.
Hunter did not have to create off the bounce a ton in a movement and slower paced Virginia offense, but he has shown flashes where he can do such against slower players. He can really score it from mid range as well as take it to the block against smaller guys who switch off on him.
Last season:
He averaged 15.2 points per game.

52% from the field.

Shot 42% from three point range

78% free throw shooter
The Knock on Him: Offense creativity and rebounding
De'Andre is a guy who can take advantage of mismatches, but may not be able to score on anyone and everyone. He gets some comparisons to Kawhi, and there are some resemblances, but Hunter doesn't quite have the same tight handle and footwork Kawhi has.
Hunter is a one move, sweep through, straight line driver. He'll have to work on new moves and getting out of the slow pace Virginia offensive mindset.
Jay Bilas mentioned this a few times last night, Hunter doesn't rebound at a rate you would expect for his size and athleticism. He will have to in the role the Hawks look to put him in. Now, he isn't missing box outs, Jordan Bell style, but he just doesn't have a great knack to just know where the ball is bouncing off. That can come with time though.
Conclusion for Hunter: I. LOVE. THIS. PICK!
---
THANK YOU FOR READING AND PLEASE CHECK OUT CHATTTENN SPORTS MOST RECENT PODCAST EPISODES! 
---
My Cam Reddish Grade

:

B
His best attribute: Incredible Potential
I know this is a strange "attribute", but he has a Paul George type ceiling, even after a let down Freshman year at Duke. You could see flashes throughout his time Duke. Cam can shoot it and attack the hole with ease (ie. the 1st game vs Kentucky). He has a great first step and that coupled with his 6'9 frame, makes him lethal attacking the hole.
When he has confidence at full force as he did against Kentucky and Florida State, he can score in a hurry. He can score in such a hurry, because he can score from every spot on the floor. He'll be able to shoot over the top of a lot of shooting guards and small forwards.
He has an array of moves to create enough space. Whether it's a step back jumper, elongated Euro step, or a hesitation dribble when he's attacking the rim.
His promising attribute: Defensive
He's also a solid defender, when he's locked in. Natural freakish length (7'1 ½ wing span), quickness, and anticipation usually help that, right?
A few times during the season, you would watch Reddish hop into a killer defensive mentality. We all love to see a defender hop into that partial defensive stance/swagger duck walk and pick up the guard at half court, knowing he's going to take it from him. And Reddish did that multiple times. Reddish can use his length to pick the pocket of any loose dribbling ball handlers.
He'll be a problem for smaller guards and won't just get man handled in the post. Though he will have to get stronger to prevent teams from taking advantage of him with rollers burying him in the post.
His Biggest Knock: Consistency
100% honest, this is why I wasn't in love with Cam at the 8 if the Hawks kept the 8 & 10. I just don't know if I trust his confidence when he isn't "The Man". Cam fell into the shadows with the likes of RJ Barrett and Zion on the floor with him. I do feel like he's DEFINITELY worth the risk as our second draft pick and at the 10 spot.
He had up and down games the entire year. Actually a lot more down. He had some 20+ point games, sure. But in the games against UNC where he did go for 20+, he went 6 for 23 & 10 for 23 from the field. And both those games he didn't have Zion.
In a 4 game stretch during the ACC schedule he scored.
22 @ Louisville

9 vs. NC State

27 vs UNC

5 @ Syracuse
I know that's a small sample size but he also had a 5 game stretch he scored 5, 10, 9, 8, 4.
He got better in the latter half of the ACC regular season, but tapered back off in the postseason.
He's only 19, so he has plenty of time to figure out his inconsistencies.
Conclusion for Reddish: If he gets the right mindset and figures out how to play alongside great talent, he'll be a star.
My Bruno Fernando Grade: A+
His best attribute: He's An Absolute Unit
You can take a look at Bruno see why Travis traded up to get Bruno at the 34th pick. He's an absolute specimen. He's 6'10 250 lbs and chiseled. He's a really good athlete at his size too.
The NBA is all about matchups, especially in today's game you need that versatile and switchable guys. But you all still need bigs. More importantly bigs that can move well.  As much love as these small ball lineups get, you still need guys who can guard the Joel Embid, De'Andre Ayton, or any other dominant big. You need situational talent, and that's exactly what the Hawks got in Bruno.
He's a double-double machine and dunks EVERYTHING. You want that attack the rim mentality with all these athletes flying around in the NBA.
His promising attribute: Dirty Work
I know this is another strange attribute, but it's much needed as a role player. Bruno dominated on the glass in college, it won't be as easy in the NBA, but I still think he'll rebound at a high rate.
He's got a good motor, so he attacks the offensive glass well and will crush defender's who lax on box outs or switch guards onto him. So put backs and well sealed rolls will be where he lives early on. Pretty solid hands and enjoys catching a well thrown lob, which he will need playing with Trae.
His Biggest Knock: Lack of Offensive Ability
Bruno isn't going to be a guy you can throw it into the block and turn into Hakeem Olajuwon. At best he can use his strength and broad shoulders on a drop step and finish on subpar defenders. Lacking any sort of jumper. But shooting is the best and fastest learned skill in the NBA now. If Brooke Lopez can learn to shoot, why can't Bruno?!
He's also a little turnover prone. Mistimes passes and gets slightly careless if he handles the ball for too long. But another skill our staff will help clear up. Also playing in a movement and quick hitter offense, he'll learn to react quicker and know his place.
Conclusion for Bruno: I love the role he will play for us and no rim is safe with he & Collins around.
I know I was probably a little too positive on these evaluations, but really think Travis and company nailed this draft for the Hawks. The Hawks need guys to help Trae out defensively and cover him up. I know what Trae means offensively, but he seriously had one of the worst defensive seasons of all time last year. We need guys who can prevent him from getting attacked in playoff runs like Dame or Steph do. The Hawks got those those type of players on Draft Night.
Seeing Phillips arena erupt last night should give all Hawks fans cold chills. Skip Bayless, Woj, and multiple other media personalities gave Atlanta a lot of love last night and today. Get out the shades, the future is bright in the ATL.
---
ARTICLE BY CHASE GREEN